So despite being really bummed about it all, I wound up having a pretty nice weekend after all.
Saturday we went up to my Mom's for the family lunch. Mom got some deli meats like chicken and ham and cheese and we had sandwiches, fruit and chips and of course cake! I picked a layered yellow/chocolate cake with vanilla custard (think Boston Cream Pie filling) in between the layers and whipped cream icing. (I love whipped cream versus buttercream so it's the one time I get my choice!)
My sister got me an AWESOME Fossil wallet ("Hanover" in red) that I had been wanting for months and that she saw on my amazon wishlist but found in Macy's. Very nice surprise.
My Mom got me two shirts, a Yankee candle "Illumalid" that helps keep the jar candle burning clean and even so there's no soot or uneven burning, and a new sunshade for my car.
Sunday Love had his traditional Sunday morning breakfast with his family and I slept in. He came home and brought my gift from his parents with him – the newest Sookie Stackhouse novel, "Dead In The Family." Love also brought me a three-rose vase and a card from him. (It was a really sweet card actually.) Then he said we were going out to Orlando to the Outlet mall. He had saved and stashed some cash for me to spend on a Fossil purse. I am addicted to Fossil purses. And they're normally really awesome deals at the Fossil outlet in Orlando just past Disney.
It seemed silly to drive out there. And I didn't want to be a bother or spend money on myself when we're so broke. But he pushed through and I'm so glad he made me. I wound up getting not one but TWO purses AND another wallet because they had a big 50% off sale going on. So, for example one of the $200 original price Fossil Fifty-Four (their high-end line) bags I got yesterday was on sale for $40. Come on. That's an awesome deal.
So I wound up making out like a bandit. Which of course, shopping + good deals = pretty darn happy day after all. Here's my goodies: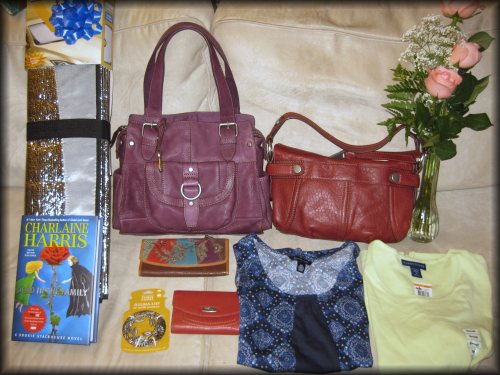 Look at the awesomeness of my gifts!! The "eggplant" purse on the left is one I had on my wishlist as well. The style is called, "Milo" and I've been eying it for months now. I couldn't believe I found it at the outlet!
So anyway, that was my birthday weekend. And I've now ticked another year over and the odometer has rolled to 33 now.

It's still been a little sad and melancholy being just two short months since Rand passed but I'm trying to focus on moving forward and letting myself enjoy things and be happy. It's hard and it's an uphill battle most moments, but a fun day like yesterday and over-the-top shopping excitement and bargains helps. Plus, Love and my family doing their best to cheer me up. It means a lot.
And thanks to everyone who left birthday wishes on my blog, livejournal, and facebook as well.